Description
Fully Customisable
One of the best features of the new Deskcycle 2 is the ability to adjust the height to suit you. When using the DeskCycle 2, you can set the maximum pedal height to either 23 or 26 cm — depending on what works for you. This is in addition to other customisation features such as the bike's easy to use wide resistance range, adjustable Velcro straps and a wide base that eliminates side-to-side rocking.
The DeskCycle 2 mini exercise bike will work at a desk as short as 69cm. People over 1.75m will generally require a taller desk.
Track your progress
Track your progress… We've put together a calorie calculator and progress logging facility, so that you can keep count of those extra k's you're doing, whilst you would normally be just sitting down.
Using the Progress Viewer you can view your daily, weekly and monthly progress. Simply create an account at https://software.deskcycle.com/CalorieCalculator.php and then save your daily progress with a click of a button in the Calorie Calculator Results window.
We also added the ability to save your daily DeskCycle 2 usage to your Fitbit® account as either footsteps, or cycling miles on a road bike.
Benefits
A design with magnetic resistance that eliminates jerky pedal motions
Smooth spinning — thanks to an internal machine flywheel spinning at 14 times the pedal speed
Large, adjustable Velcro straps on the pedals
A wide resistance range with eight levels
A 1,000-minute display that surpasses what's offered with comparable bikes
Online Calorie Calculator and progress logger.
Log your DeskCycle 2 activity to your Fitbit account.
A display stand for placing on a desk
30-day money-back guarantee
One-year warranty
DeskCycle features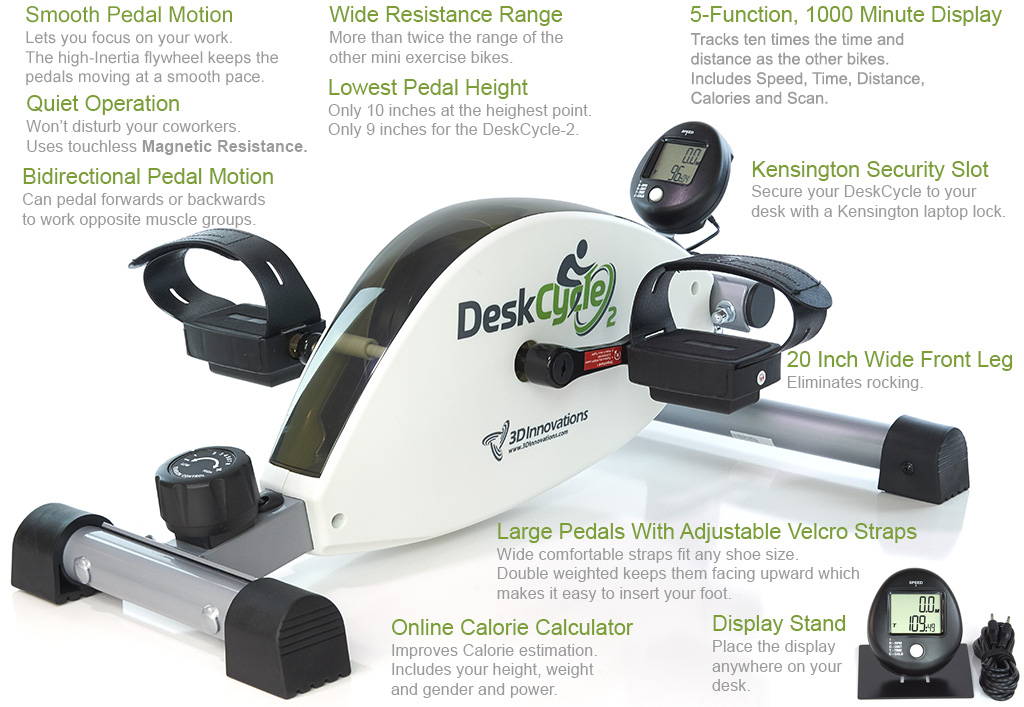 Ultra-smooth pedal motion
The High-Inertia flywheel keeps the pedals moving at a smooth pace. Smooth pedal motion makes pedalling the DeskCycle 2 an unconscious activity so that you can focus your attention on your work. In contrast, the other bikes tend to have jerky pedal motion at any usable resistance setting. Jerky pedal motion can be bad for your joints and can distract you from your work. Smooth pedal motion is a must for physical therapy.
Magnetic Resistance
Most pedal exercisers use friction resistance which causes jerky pedal motion, especially when you turn the resistance up. In contrast, the touch-free magnetic resistance in the DeskCycle is smooth at all resistance settings.
The high-inertia flywheel 
The precision machined flywheel quietly spins at 14 times your pedal speed. The high inertia of the flywheel helps keep the pedals moving at a smooth pace, sort of like a mini spin bike.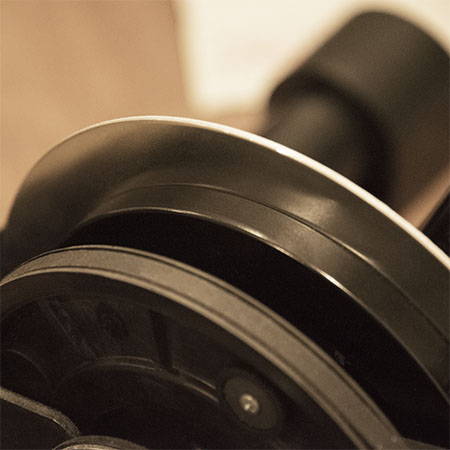 The touch-free magnetic resistance mechanism of the DeskCycle 2 was designed to be quiet so that it will not disturb your coworkers.
Quiet Magnetic Resistance
The DeskCycle 2 mini exercise bike uses touch-free magnetic resistance.
In contrast, friction resistance bikes rub two surfaces together which is inherently noisy.
Precision sealed bearings
The DeskCycle uses 8 heavy-duty precision sealed bearings to keep things moving quietly. These insure that your DeskCycle will be quiet for years of maintenance-free use.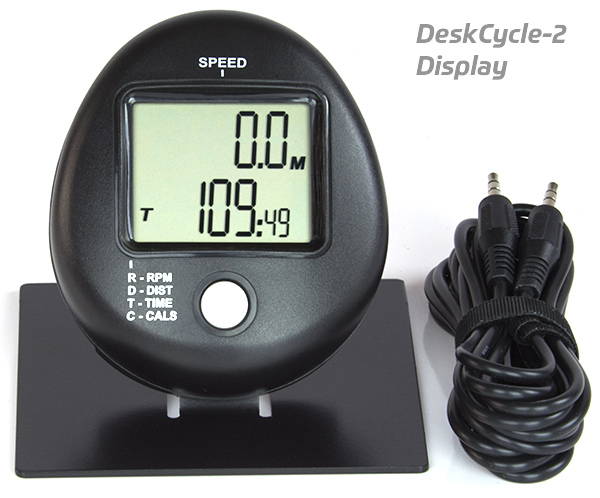 1000+ minute display and display stand
Display Stand
Place the display on the DeskCycle 2 or anywhere on your desk using the provided display stand.
DeskCycle 2 Display
The 5-function display counts up to 1000 minutes (over 16 hours) before it rolls over. Many of our customers use the DeskCycle for several hours each day.
DeskCycle 2 Display (Large LCD)
The 5-function display counts up to 10,000 minutes (over 160 hours) before it rolls over.
Online activity logging with FitBit® support
Log Your Daily Activity
Our online Calorie Calculator now lets you log your daily DeskCycle 2 activity at the end of each day.
View Your Results
Use the progress viewer to see your daily, weekly monthly, yearly, and all-time exercise progress.
Upload Your Steps to Fitbit®
You can also upload your equivalent daily steps to your Fitbit® account.
Wide resistance range
Many pedal exercisers don't have enough resistance to raise your heart rate. The DeskCycle 2 mini exercise bike has more than enough. At the lowest resistance setting the DeskCycle 2 pedals freely. At the maximum setting, there is between 2 and 10 times the pedal resistance of the other bikes. The DeskCycle 2 has 8 resistance settings.
Ages 5 to 100
Anyone can use the DeskCycle 2 at the lower resistance levels at a leisurely pace of 15 mph.
As you use the DeskCycle 2 your strength will increase and you will graduate to the higher levels.
Double Your Pedal Speed to Quadruple the Resistance
Pedalling faster, exponentially increases the resistance. Most people can't pedal the DeskCycle 2 at 30 mph for more than a few minutes at level 4. Your heart will quickly enter the high cardio zone and your legs will burn within a few minutes.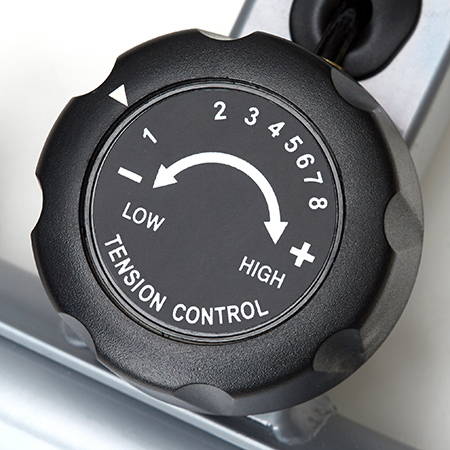 Wide solid base
The front leg is 20 inches wide. Because of their narrow bases and high centre of gravity, the other bikes tend to rock back and forth or side-to-side when pedalled.
Not the DeskCycle 2. Its' low centre of gravity, and wide base keep it firmly on the ground when you pedal it.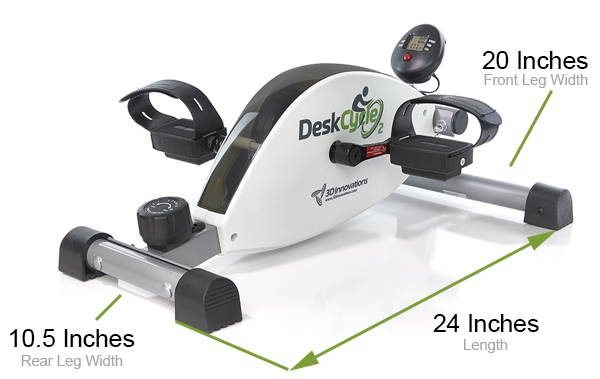 Lowest profile under-desk exercise bike
The DeskCycle 2 has a 10-inch maximum pedal height.
At the top of travel, the height of the DeskCycle 2 pedal is only 10 inches. This is 5 inches shorter than the max pedal height of the MagneTrainer. The DeskCycle 2 could be used at a 27 inch tall desk (measured between the floor and underneath side of the desk) by a person who is 5′ 8″ or shorter. At 5′ 8″ you will need to push the bike further away from you and extend your legs to prevent your knees from hitting the underneath side of the desk. You may also need to lower your chair. Taller people will need a taller desk.
The DeskCycle 2 has a 9-inch max pedal height!
The DeskCycle 2 pedal height is adjustable. You can set it to either 9 inches or 10 inches. This is the lowest pedal height available. A person up to 5'10" can use the DeskCycle-2 at a 27 inch desk or taller.
Large comfortable pedals with Velcro straps
Comfortable
The DeskCycle 2 mini exercise bike comes standard with large pedals with wide adjustable Velcro straps. The larger area and flexible strap keeps your feet comfortable when using the bike for extended periods of time.
Wide adjustment range
Quickly adjust the strap to accomodate any foot size. The maximum loop circumference is over 16 inches.
Double weighted always-up pedals
The pedals are double-weighted to keep the pedals facing upward when not in use. This make it easy to insert your feet in the pedal straps.
The pedals use ball bearings for smooth motion and a long life.
Bidirectional pedal motion
You can pedal the DeskCycle 2 pedal exerciser in the forward and reverse directions. The resistance is equally smooth and quiet in both directions. Pedalling in reverse works opposite muscle groups.
Built to last for years
DeskCycle 2 uses the same high-quality, heavy- duty components as the MagneTrainer. This and the no-touch magnetic resistance mechanism combine to provide years of maintenance-free use.